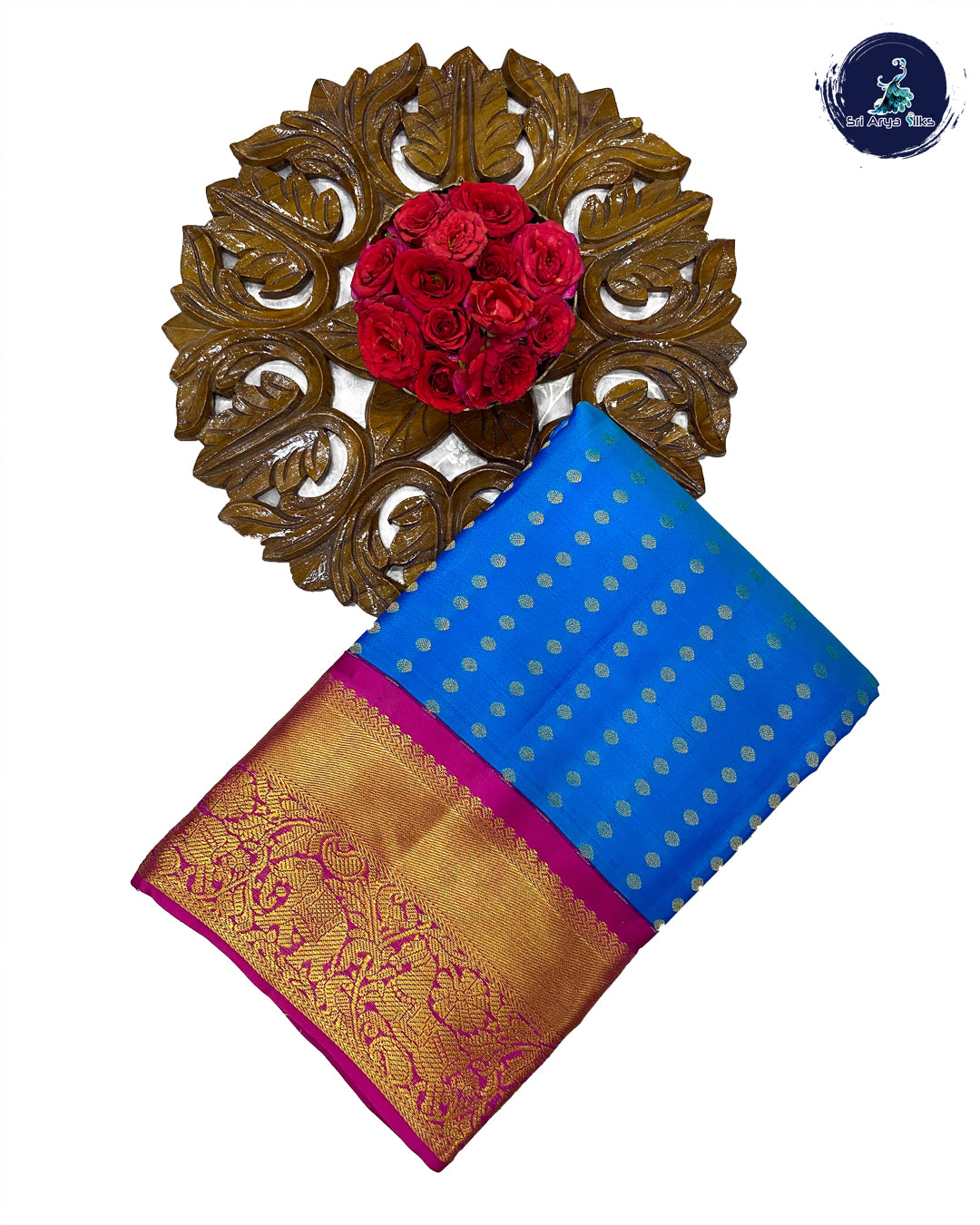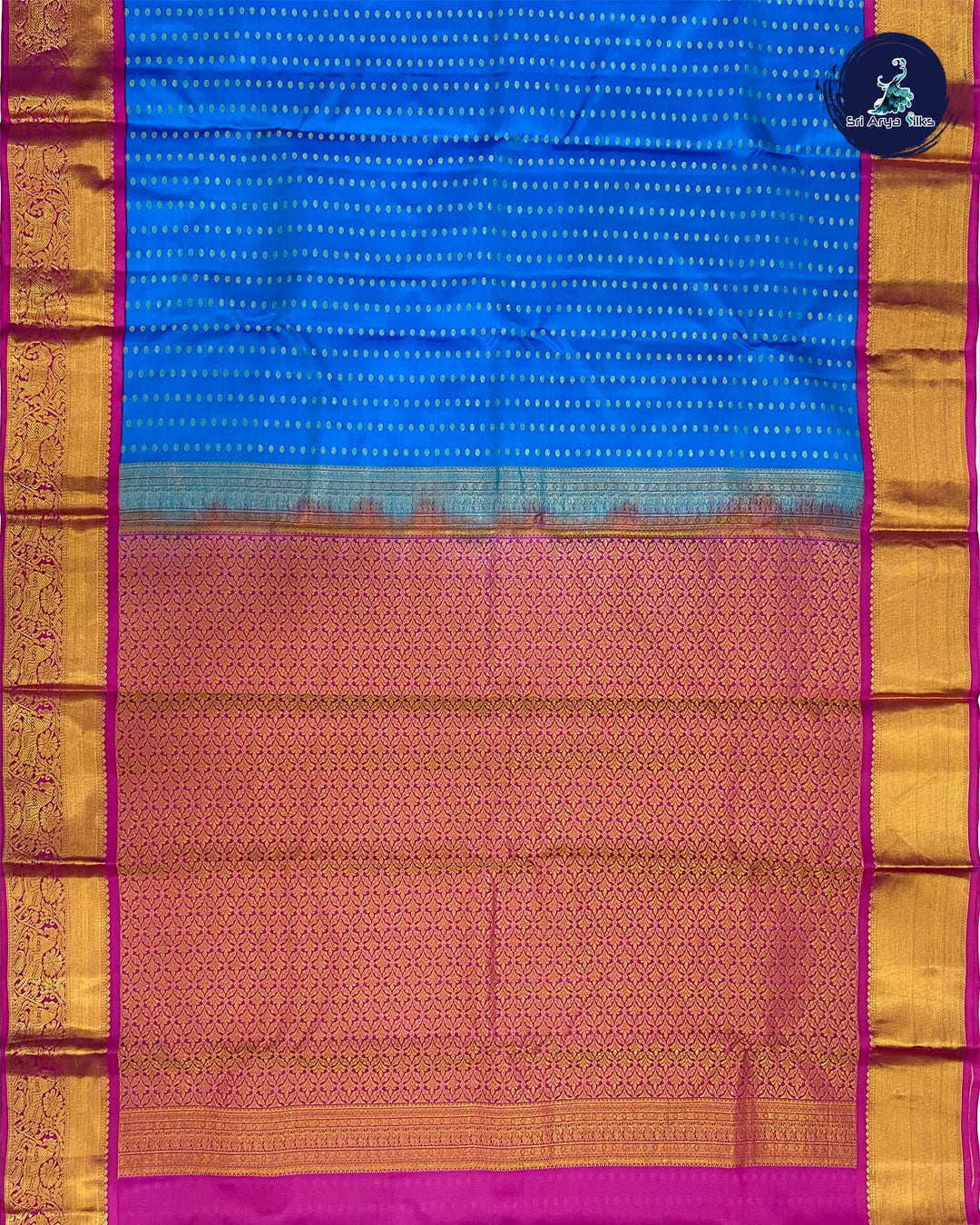 Blue Korvai Contrast Silk Saree With Pink Blouse & Buttas Pattern
Buy Blue Korvai Contrast Silk Saree With Pink Blouse & Buttas Pattern from Sri Arya Silks.
Only 1 saree woven. An exclusive & handpicked design.
Note : Colors may vary slightly due to camera settings, device brightness, and lighting. If you'd like more clarity before your purchase, please contact us.
Saree Color: Blue
Saree Size: 5.5m
Blouse Color: Pink
Blouse Size: 0.8m
Fabric Purity: Pure Silk
Saree Border: Contrast Border
Border Type: Contrast
Zari Type: Half Fine Zari
Saree Material: Pure Silk
Saree Pattern: Buttas
Saree Wash:
Does Sri Arya Silks deliver internationally?
Yes. We deliver internationally to more than 100 Countries worldwide. While placing your order, the shipping rate calculator will automatically show the price indicating that this facility is available in your country.
How do you calculate shipping charges?
Shipping charges are calculated on total weight of products in your cart. More products in your cart means more weight of your order. Shipping rates increase per half a kilogram.
Who are the courier partners?
For domestic shipments, we use Professional Couriers and For international shipment, we use DHL.
How long will it take to deliver?
For domestic orders, delivery will take 3-5 business days, and for international orders, 10-12 business days. We ship all orders within 1-2 business days.
How can I pay for my order?
You can pay online with credit/debit cards, net banking, and UPI.
What should I do if my payment fails?
Please try again if your payment didn't go through. This can happen for several reasons. You can also contact your bank and ask about it because banks sometimes stop transactions for security reasons.
Do I have the option of changing my shipping address after I've placed my order?
We can change the shipping address only for domestic orders (from one address to another address only in India). Just email us at contact@sriaryasilks.com and we'll do it for you, provided the order isn't in transit.
It's not possible to change the shipping address for international orders.
How do I submit a return request?
We only accept returns if the saree has damage or defects. Hence, sarees without any defect or damage can't be accepted.
In case the saree has a defect, contact us by email at contact@sriaryasilks.com or call +91 9962007983 within 3 days of receiving it.
The email should contain comprehensive details of the defects/complaints relating to the order/package you received along with photographs showing the defect.
Please do not return any item without consulting us. You must return a product within 7 days of receipt, even if it arrives at any time.
At Sri Arya Silks, we have been weaving silk for over 35 years.
Rated 5 out of 5 based on 100+ reviews.
Sri Arya Silks
Celebrities
"I would strongly recommend Sri Arya Silks for the brides because it's a one stop destination for all your wedding sarees especially if you are a traditional silk saree lover like me." @Arthi Ramesh
"I can give 100 stars to her for having such lovely collection of Sarees. She is so patient in knowing the requirement of her customers. Got a good amount of discount during Diwali :-)" @Niranjani Satyendra
"Very genuine, high quality, worth the price and on time delivery makes shopping ease with Sri Arya Silks. Infact I haven't been to their store in Chennai or met her yet." @Dhivya Sriram
"I have ordered many sarees through Sri Arya Silks..only by communicating through Whatsapp, as I am in Malaysia. The sarees have always met my expectation, in colour, pattern and quality." @Ayeesha
"Collections are very elegant and unique with vibrant colors!!! Value for money... just chosen a saree in less than 15 mins.." @Jeyanthi Chandran
"The quality of the saree I purchased was really amazing.. and it is really worth for the money as well… would definitely buy more silk sarees from them in the future !!" @Subhashini Srinivasan